RAIZER M
Introducing the new, all manual, ligting chair!
Raizer M is operated by just one person. This can alleviate stressful situations as the lift can be performed swiftly and easily in the user's own home by a relative. The fallen person can be lifted from the floor to an almost standing position within a few minutes.
Always Ready
---
The Raizer M is not depending on electrical power and therefore always ready to be used.
Easy in use
---
The Raizer M is intuitive and easy to assemble and operate. Raizer M does not require any introduction or training other than the documen- tation supplied with the product and access to online information.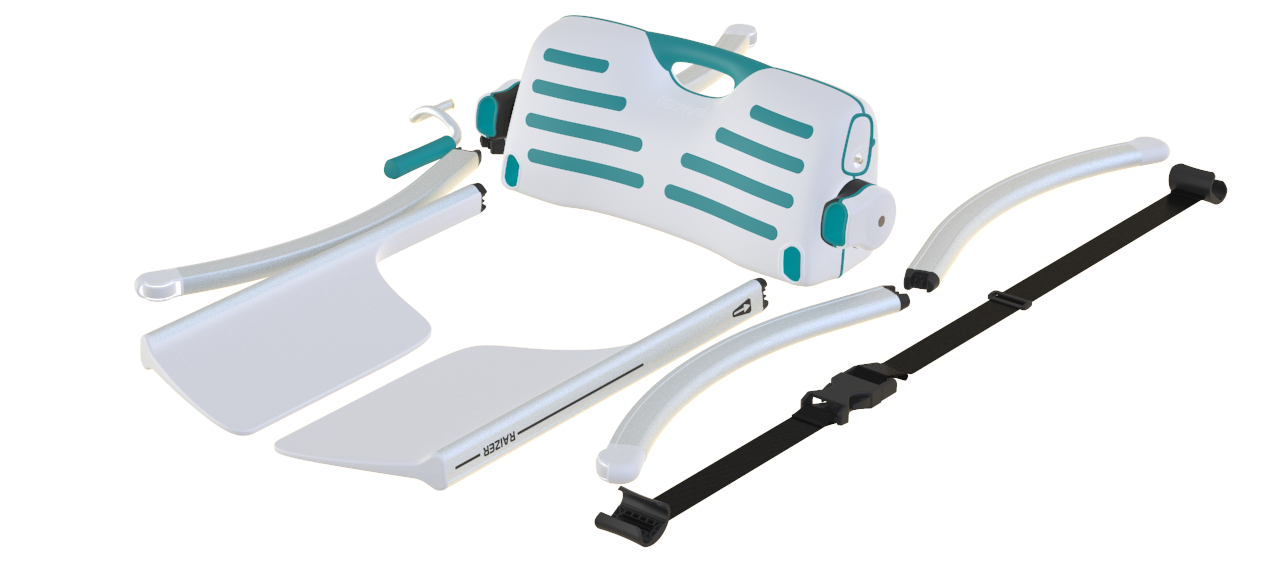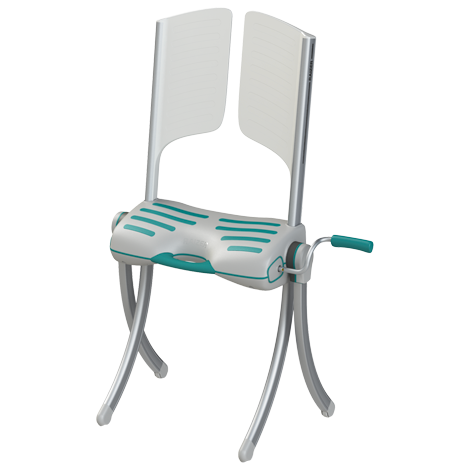 Weight
---
The Raizer M has a total weight of 27.3 lb. Heaviest item is the seat, weighing 15.9 lb. This makes the product easy to carry to the area where a person has fallen.
Comfortable lifting
---
The lifting process is very comfort-able compared to other solutions available on the market. This has been proven with Raizer and Raizer II.
Hygiene
---
All surface materials and structures have been developed to be easy to clean and disinfect.
Independent living without the need of caretaking from outside
Liftup's patented emergency lifting chair is a fast and safe solution when a person has fallen and needs help with transfer to either a standing or sitting position.
Benefits
Easy and safe to use
Raizer M assembles very quickly around a fallen person (3 minutes).
Lifting with the Raizer M requires a minimum of physical effort.
Lifting with Raizer M only requires one person.
No strain on the body for neither the helper nor the fallen person.
Easy to store.
Technical Specifications
Model: Raizer M
Operation: Hand-operated by 1 person
Duty Cycle: 1/5 min
Dimensions (LxWxH): Standing: 21 x 34.5 x 50 in / Lying: 52 x 34.5 x 11 in
Lifting capacity: Max. 330 lb
Lifting time: 1-4 min
Weight: Seat: 15.9 lb / Legs and back support: 11.4 lb/ Total: 27.3 lb
Working temperature: +41ºF to +104ºF
Life expectancy: Min. 5 years / 1.000 lift s with max. load
Materials: Seat: Polycarbonate, ABS / Backrests: Polycarbonate, ABS / Legs: Aluminium
Extras for Raizer
Remote control.
Support Belt for Torso.
Hygiene Cover.
Trolley